The Houston Project - Yok & Sheryo
May 16, 2016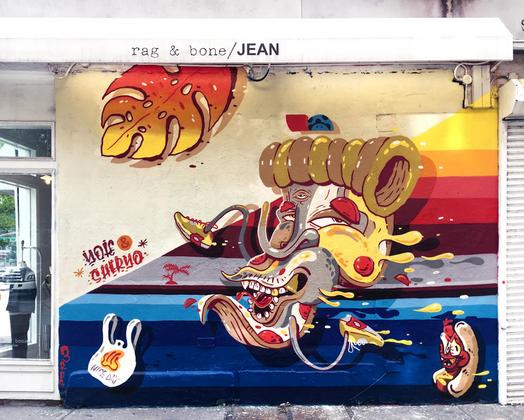 This month the Houston Project welcomes street art duo Yok & Sheryo. Although based out of Brooklyn their graphic, cartoon style has created a global presence, together having exhibited works in Australia, Singapore, Hong Kong, Tokyo, Miami, New York and London, among many other places.
Below, read on to learn more about the pair and their colorful Houston Project.
What inspired you to first start in street art?
Sheryo: Friends! And curiosity.
Yok: Painting outdoors is a lot more fun and sociable than studio work, you can drink beers and have a BBQ while you paint a wall with a bunch of friends.
Were you always a duo, or did you start off on your own and come together at a specific point in time?
Yok: I started making crappy gargoyles for the street a while back on my own. Then by chance I met Sheryo in Singapore/Cambodia and we realized we had a similar style so we did our first wall together in Cambodia. We've been collaborating ever since.
Sheryo: We were both doing individual work until we met. Then we joined forces like voltron and never looked back. Two heads are better than one in our case.
You work across several mediums (paintings, sculptures, installations), which is your favorite to work in and why?
Yok and Sheryo: We love working across different mediums and we believe that the process is more important than the outcome. As long as we had fun making the work nothing else really matters.
What do you hope your art, and specifically your Houston Project, will bring to passersby?
Yok and Sheryo: We don't like to take things too seriously and our art is the same way. It's fun, playful and humorous - very much like us. If our work brings a smile to your face then our work is complete.
Was there any particular inspiration for this piece?
Sheryo: New York icons! NY in the summer is the best!!!
Yok: NY summer vibes.
Follow Yok & Sheryo on Instagram @spacecandy