rag & bone Wins at 'Chelsea in Bloom'
May 24, 2013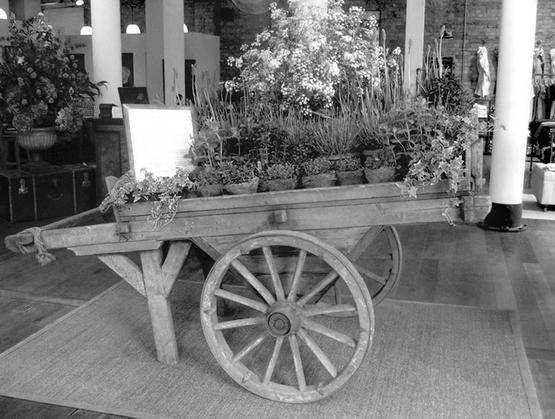 It turns out that not only is David's mom Dilly one of the chicest ladies we know, she is also a dab hand at floral and plant arrangements!
Earlier this week we were delighted to receive the prestigious judges' vote for Best Floral Display Award at Chelsea in Bloom and Dilly was the creative force behind our Sloane Square store's award-winning displays.
It marked rag & bone's first time entering the world class floral festival (20th – 25th May), which sees local retailers compete for best floral design and attracts visitors from around the globe. The theme was 'Decades' and rag & bone focused on 2010 onwards. The displays, Dilly explains, were designed to encapsulate the brand, both aesthetically and philosophically - "The freshness, authenticity, attention to detail and use of high quality material, while recyclable shrubs and herbs were included to reflect a casual, natural elegance."
Each and every piece, from the floral gateway with welcoming Jasmine, had symbolic meaning:
Recession: This decade has had to embrace a recession and with rag & bone priding itself on producing pieces of enduring quality, displaying plants that can be reused and given away was important. In a recession you have to rely on patience and humility (Alliums), hope and good fortune (Apple Blossom), fidelity (Ivy), and the promise of new adventures (Lavender).
Decline of the bees: A concern over the bee population's decline inspired the inclusion of several hidcote Lavender plants, a veritable bee food factory.
Recycling: rag & bone strives to utilize existing interior features in new premises and feature eco-friendly antique fixtures, so recycling was destined to be a component of the display. Fittingly, the rag & bone man was in effect a pioneer in recycling, swapping his wares on the street. The vintage cart in store represents this ideal.
Olympics 2012: Lilac (pride), Wisteria (welcome), Ivy (friendship and fidelity), Phlox (harmony and good partnership). These plants reflect pride in our Olympians and London's triumph at hosting the global event.
Queen's Jubilee: Two Myrtle trees were incorporated to honor of her Majesty.