Where Chefs Eat
Mar 18, 2013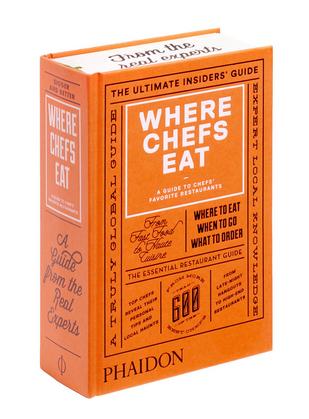 We're obsessed with Where Chefs Eat
Who doesn't want recommendations from 400 of the world's best chefs? The culinary stars have shared their favorite eateries, from the best breakfast places to after-hours haunts, in the must-read book.
With food on our mind, we asked David and Marcus to reveal their go-to places in the city...
Marcus's favorite NY spots:
Marlow and Sons - "Just a wonderful hideaway with incredible food."
Reynards - "Great atmosphere and an open kitchen which I love!"
The Beatrice Inn - "I've had some great times here, most recently for my birthday."
Four Seasons - "One of the most special restaurants in the world, and where I got engaged!"
Brooklyn Fare – "Best meal I've ever eaten - simple as that."
David's favorite NY spots:
Cookshop – "I live nearby and they use really fresh produce."
Brass Monkey- "The Irish landlord, Sean is a good friend."
Izakaya Ten – "For the cold Asuka Beer."
Nobu – "For the Wagyu Beef & Foie Gras Gyoza."
Balthazar – "For the Duck Shepherd's Pie."