Q&A with Surfrider CEO, Chad Nelsen
Nov 5, 2015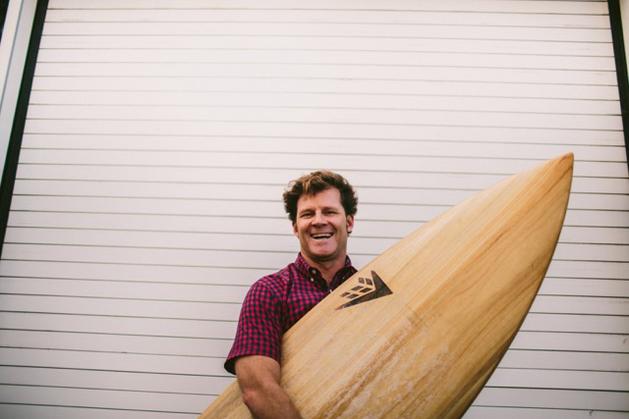 We recently partnered with environmental sentinel, the Surfrider Foundation, during the launch of our Solé bike collaboration at our Abbot Kinney store in California.
The organization, which was first started in 1984 by a group of surfers in Malibu, aims to protect the world's vast marine environment against dangers posed by escalating coastal development. Their missions have grown to include open beach access, water quality awareness, clean water initiatives and protection against ocean pollution.
Below, learn more from their CEO, Chad Nelsen…
How did you first become involved with Surfrider?
I started as a summer intern in 1995. I knew that I wanted to get involved in protecting the environment but it wasn't until I considered grad school at Duke's Nicholas School of the Environment and saw their Coastal Environmental Management program that I realized I could combine my passion for the coast with my interest in protecting the environment. That led to a NOAA fellowship in Oregon for a couple of years before I landed my job at Surfrider in 1998. I have been with Surfrider for 17 years. Before I was hired as CEO last fall, I ran Surfrider's Environmental Department, which provides science and policy support to our chapter network.
What do you believe are the biggest challenges affecting our coasts now and what do you foresee them being in the years to come? How can we tackle them?
The impacts of climate change on our coasts will be the biggest challenge we face in the next 30 years. The impacts associated with climate change are huge issues - warming oceans, sea level rise and ocean acidification are threats around the globe. Sea level rise is going to cause coastal erosion and threaten our favorite beaches and coastal areas and acidification threatens marine wildlife and coral reefs, which make the world's best surf spots. We not only need to start reducing emissions but also plan to adapt to the changes that are already underway.
Surfrider is also international. Is it on the horizon to expand the chapter network further overseas
The Surfrider Foundation has affiliates in Argentina, Australia, Europe, Japan, Pacific Rim and Vancouver. There is a tremendous need for ocean and coastal protection worldwide, and we continue to strive to expand globally because the need is there. It is why Surfrider is an active participant of the Global Wave Conference, which brings together the world's most respected surfers, environmentalists, sustainable business leaders, and marine experts to work together to protect waves, oceans, beaches, wildlife and surf habitats worldwide.
Surfrider celebrated their 30th anniversary last year. That's a huge milestone! What do you believe has been the organization's most impactful initiative(s) thus far?
When I started at Surfrider almost 20 years ago, there were 24 chapters and they had very limited support to take on the threats facing our coasts – at best we were playing defense and it was full of holes. Now Surfrider has built up our network to 84 chapters as well as a regional and national scientific, policy and legal expertise. Marrying those together we have a blueprint for scale to see not only more victories but transform the campaigns in local communities to lasting policy protection at the state, regional and federal level.
In the same vein, what do you consider your proudest achievement to be since you started working at Surfrider?
There are several. Establishing the first marine reserve on the mainland of Puerto Rico that both protects endangered Elkhorn corals and the amazing waves at Tres Palmas to the tough fights with our Save Trestles campaign that helped halt a toll road that could have negatively impacted Trestles surf break; and my work on surfonomics — studying the value of a surf spot to its community and the money that surfers infuse into the communities where they surf through their spending while they visit.