The Houston Project - Scott Albrecht
Dec 10, 2015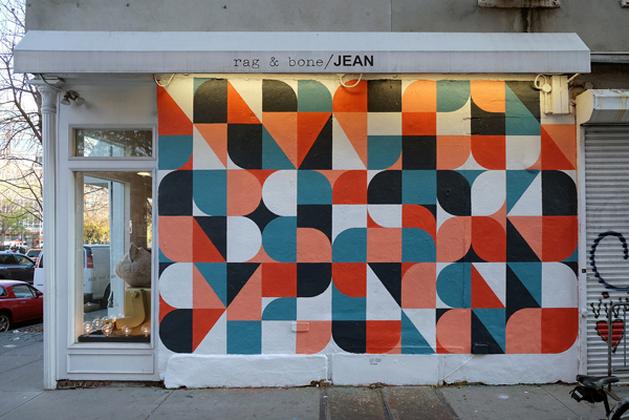 Scott Albrecht takes over the Houston Project this month with his mural Nothing is Defined, above.
A Brooklyn transplant, the artist is known for inspiring positivity and optimism through his many vibrant pieces. Find out more about his project and unique style below…
You are instantly recognizable for your brightly colored motifs, graphic shapes and woodworking skills. Can you tell us a bit about the inspiration behind your style and what motivates you to choose a specific medium when creating a piece?
I have a background in graphic design, so a lot of my work tends to incorporate different design elements, like typography, color-blocking, simplified shapes and forms, etc. Typography has played a larger part in my work over the years, but more recently I've been distancing myself from it or exploring new ways of abstracting the characters to create different visual languages.

The works themselves tend to be inspired by situations happening with both myself and my friends and family. I often use the work as a way to process these situations and also in some ways act as a reminder for myself in the future.
In terms of the medium, I like to let the piece I'm creating help dictate how it should be made.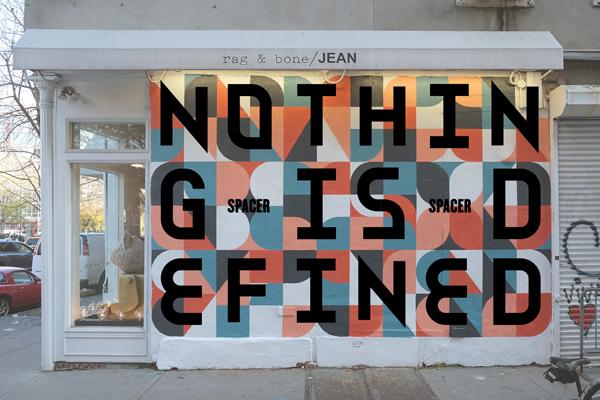 Many of your works hold hidden messages in their patterns, possibly overlooked on first glance. Is there any unique message in the Houston Wall that a passerby might not immediately notice?
Yes, the piece on Houston is a part of an abstracted type series that I've been exploring. This piece in particular reads Nothing Is Defined (as the artist illustrates above).
In this series, I've been enjoying abstracting the character set to a point where the message provides the structure for the piece, but the visual really celebrates the forms more than anything. For me, I'm not so interested in excluding or hiding a message from the viewer, but more so creating a different visual language within the work.
What should we look out for from you next?
I'm currently planning out my exhibition schedule for next year which includes several shows around the U.S. as well as a new book of works to date with Valley Cruise Press which we're aiming to release towards the end of the year. Separately, I'm planning to start a new project called Artifact which will be a line of limited edition artist collaborations launching early 2016.

Follow Scott on Instagram @scottyfivealive