The Houston Project - Kevin Lyons
Oct 13, 2015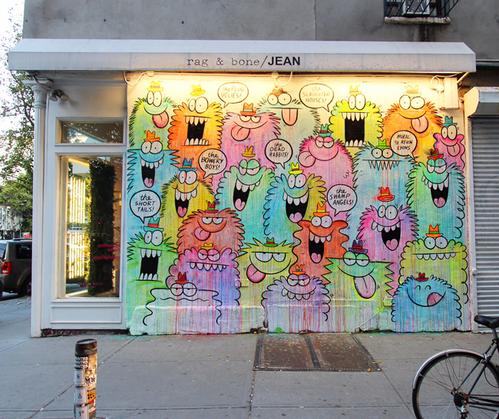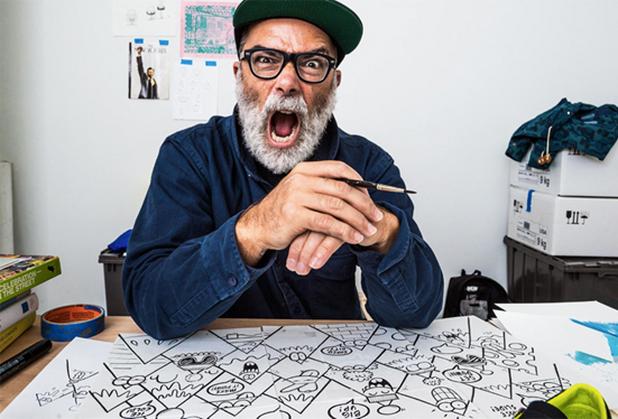 Creative director, illustrator, designer, artist and Emmy award-winner, Kevin Lyons's influence on the art world exceeds beyond his instantly recognizable street murals.
This month we enlisted the Brooklyn native for the latest installation of our Houston Project, who chose to paint his signature cartoon characters in a strikingly vivid color palate.
Check out his Project above and read on to learn more about the artist...
Can you share the history behind your signature cartoon style?
Basically, I created the characters for my kids, so the brightness and energy were there all along. I have told the story a lot, but my older daughter for some reason just stopped eating her lunch in pre-school, and as a result, I started dropping these bright colored monsters into her lunch. I would make them say stuff like "Eat your eggs or I will break your legs" (from BeatStreet). Stuff that would encourage her to eat. Then they started showing up in a bunch of my other work. I started using them in more of my work and they started to scale older and older. They would begin to yell rap lyrics and swear a little. They became more personal. I saw the reaction from others. They make people laugh. They make people smile.
Have other artists been a source of inspiration to you?
Well, like anyone else, I have tons of influences so I will try and name a few. Jim Henson; The Muppets Show and Sesame Street, Jim Davis and Garfield and Charles M. Schulz and Peanuts. Also, Shel Silverstein. I absolutely love William Steig who created Shrek and other great books along with children's book illustrators Jim Marshall and Tomi Ungerer. Then as I became a teenager, I was strongly influenced by what was going on with street art and hip-hop and graffiti. I loved Keith Haring and Futura. Haze was another big influence. Then I got into art and design and I fell into Milton Glaser, MAD Magazine, Raymond Pettibon and Mike Kelley. Today, I am really inspired by my peers and guys like REAS (Todd James), Persue, Gorey, James Jarvis, Stefan Marx, Jay Howell, Fafi, SO-ME and Horfee.
Can you explain the concept behind your Houston Project?
For The Houston Project, I definitely wanted to feature my signature monster characters. I had never done a wall of monsters outside in New York City, so this was a great opportunity to finally do so. I was also concious of the fact I was in the Old Little Italy, East Side at the Downtown edge of Manhattan, directly off the Bowery, so I gave all of the monsters classic old school Italian fedoras. I also had them all screaming the names of the old Bowery Old Five Points Gangs – for instance, The Bowery Boys and The Slaughter Houses.
You also have your own clothing label, Natural Born. Was fashion always an artistic outlet you wanted to explore?
Natural Born was created as I was working for so many other brands. At first it served as a graphic line where I could put all of the ideas that did not fit with any of the brands. Then it became much more of a personal mode of expression. It was a line that was very autobiographical and really combined my love of hip-hop, reggae and ska, politics and political graphic design.
Finally, can you tell us what we can expect next from you?
Well, currently I have a kids' snowboarding collection with DC Snowboarding. I also have a HUF collaboration dropping soon so look out for that and more work with Colette in Paris is on the way. Some Nike stuff is brewing, and hopefully a lot more art and hand-made stuff. But, right now I am enjoying this mural. It was a whole lotta fun to do! On that corner. In this city. I'm proud to be a part of the rag & bone Houston Project.
For more information on Kevin, head to NaturalBorn.com.