Q&A with NBA Star Karl Anthony Towns
Aug 5, 2015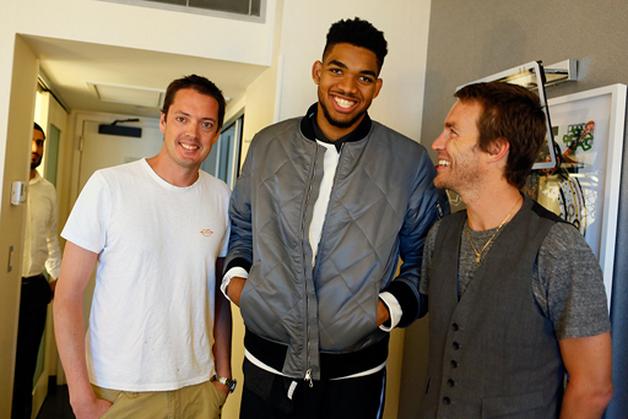 rag & bone dressed Karl Anthony Towns for the NBA Press Day. We caught up with the star later to discuss fashion and find out what are his favorite things...
How would you describe your style?
I just try to wear clothes that make me look good.
Which athlete do you think is on point with their sartorial choices?
Dwyane Wade. He's always on point. He doesn't do too much or too little.
Growing up, did you make any major style missteps?
Yes. It was hard for me being so tall yet thinner to find clothing that fit. It's been nice as I get into the league to find clothing that actually fits.
As a teen, former NFL star Carl Banks stepped in to give you sneakers when your shoe size shot up every few days. This helped you continue to play the game you love, but did that act of generosity make a lasting impression in other ways?
It is important to me to give back to kids because of gestures like that I was the beneficiary of growing up. I know how impactful those moments can be and I strive to create them myself.
On the topic of NFL, did football or any other sport ever appeal to you?
Baseball was and is still a passion of mine. It taught me patience which is crucial for not only that sport but in basketball. You need to be patient sometimes to make the right play.
Finally, some athletes have said that fashion is like an outlet for them, do you share that viewpoint?
Fashion is absolutely a passion of mine and a way to express my personality. I love to find ways to be classic yet loud, sophisticated yet youthful.
STUFF KARL LOVES:
Product: Samsung phone
Book: Holes by Louis Sachar
Art: Jean-Michel Basquiat
Hotel: Loews
Restaurant: Malone's in Lexington, Kentucky
Destination: Dominican Republic
Cause: Autism Awareness
Indulgence: Nestle's Buncha Crunch
Inspiration: My parents