The Houston Project - Jerkface
Oct 14, 2014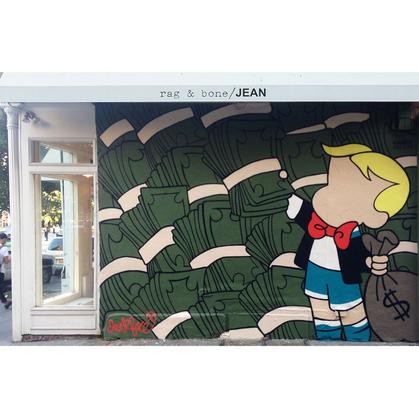 Born and raised in New York City, Jerkface began his work as a graffiti artist at the age of 16. Prolific in his creative output, on more than one occasion he has completed a 30-day campaign in which he drops a new piece of art each day for a month.
Although most of his works are done on canvas, murals have made him well-known on the streets of New York. Check out the lastest installation of our Houston Wall Project by Jerkface...
What is the significance behind the signature Jerkface style?
When using iconic characters in my work, I try to minimize their facial expressions so that the more obvious mood generated from the face does not override the composition and the subtle mood created by the color play.
How long did the whole mural take to complete?
Two days with a fractured heel.
How do some of your techniques differ when completing works on a larger scale like this as opposed to your works on canvas?
One is paint and brush, the other is spray paint and a roller.
What area of New York is your favorite for displaying your street art?
Bushwick.