Jean-Michel Basquiat - NY Exhibition
May 1, 2014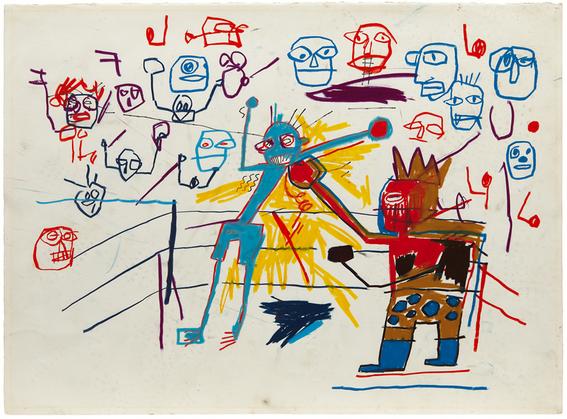 Untitled (Boxing Ring), 1981 Oilstick on paper 22 1/8 x 30 1/8 inches (56.2 x 76.5 cm) The Schorr Family Collection © The Estate of Jean-­‐Michel Basquiat / ADAGP, Paris / ARS, New York 2014 Photo by Kent Pell
From today, May 1, through June 13, 2014, Manhattan's Acquavella Galleries presents a Fred Hoffman-curated selection of Jean-Michel Basquiat's works from Herbert and Lenore Schorr's collection.
The couple were early champions of Basquiat, who died aged just 27 of a drug overdose in 1988, beginning their collection in 1981, prior to his first ever New York exhibition.
The Schorrs lay claim to several of Basquiat's most important works, including 22 of his paper drawings, many of which have never been exhibited to the public before.
Passionate proponents of their late friend's genius, the trio became close with Basquiat even creating their portrait (see below). Read more about their touching relationship here: http://www.vanityfair.com/culture/2014/05/jean-michel-basquiat-drawings-herbert-lenore-schorr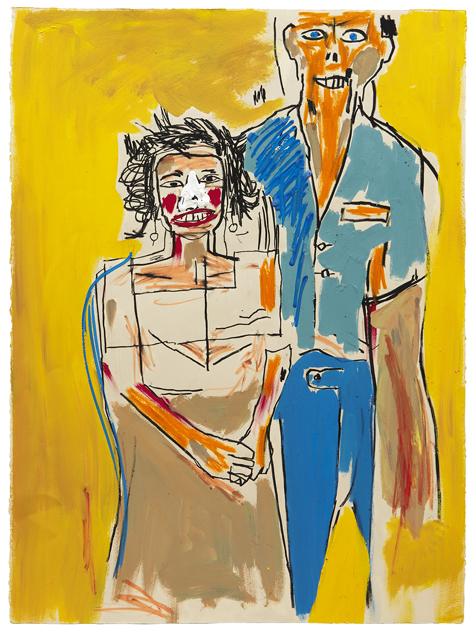 For further information on the Acquavella Galleries' exhibition, click here