The Houston Project - Yoon Hyup
Jan 17, 2014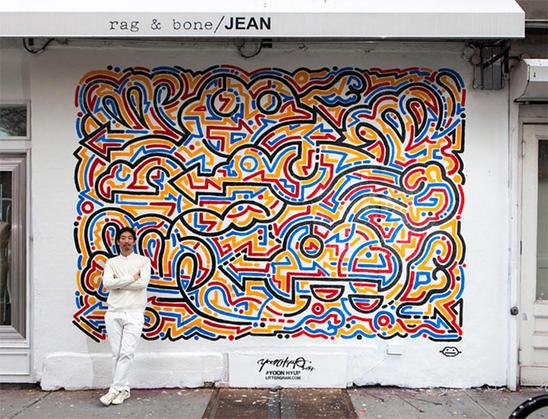 During the coldest temperatures New York has weathered in some time, Korean artist Yoon Hyup braved the unforgiving elements to do our Houston Project.
Here, Yoon discusses his work and shares a video of him painstakingly creating his mural...
Can you tell us about your mural, what was the inspiration behind the design and do you have a name for it?
Intentional or not, sometimes I find that I had subconsciously reflected Asian inspirations and traditional Korean motifs, such as traditional cloud patterns, which you can find from old Korean architectural details and the fresco of ancient Korean tombs. Cloud then meant elevated to godhood in Korean mythology and other Asian cultures. The colors I used are traditional Korean colors called "Obangsaek", which consist of white, black, blue, red and yellow which mean Yin-yang & five elements of the universe. I'm inspired by a lot of things and spend time skateboarding and I also love percussion music, so I reflect rhythmical sense into my painting by using circles and dots. Curves and arrows symobloize the flow of skateboarding and the energy of bustling city. I named this piece as "Wishing for a Bright Sunny Day", a tribute to people working hard to fulfill their each dreams in New York.
Was the weather a major challenge. Why didn't you stop?
When weather went down to 5 degrees Fahrenheit, it disturbed my painting as not only were my hands frozen, the paint froze too in 10 minutes. But for me, personally, I attain a state of perfect contentment, even if something bothers me, when I concentrate. So I kept doing it in the freezing days, and finished it.
How would you describe your style?
My style is rooted in traditional Korean traditional culture and is also inspired by paintings of cubism. Most of my pieces are based on improvisation, and exploring the flow of energy in harmonic order; much like a concerto.
Which artists do you admire?
Nam June Paik, Lenny McGurr a.k.a Futura 2000 and Romon Yang a.k.a Rostarr.
What is currently inspiring you?
I always inspired through traditional motifs and myths. I'm also inspired from the crustacea such as crabs and lobsters. To me, I love their design and think they are look like cool robots - I wish I could have them in my home as pets.
What's your next project?
I'm going to continue developing my body of work and I'm also going to do a collaboration of art work with a talented Korean toy maker.
Check out www.YoonHyup.com and @ynhp
Photos courtesy of Jason Lewis