Fashion Toast's Rumi Neely on Coachella
Apr 23, 2013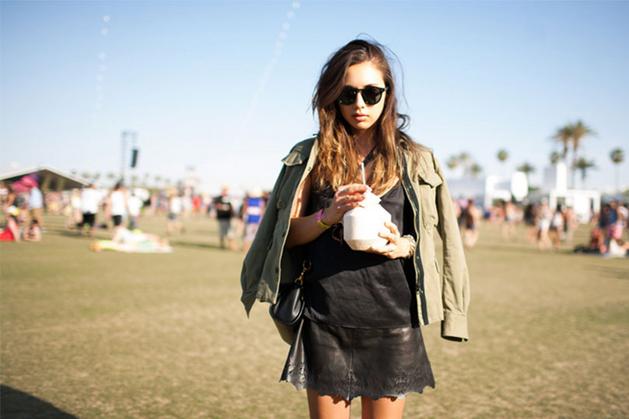 Rumi Neely, the perennially stylish beauty behind Fashion Toast, spent the last couple of weekends at Coachella (where she rocked some rag & bone, see above!). We caught up with her to hear how she got on...
What were the best acts you saw?
Band of Horses and Beach House.
Are there any acts you missed but heard were amazing?
La Roux.
Who did you have your best festival catch-up with?
I ended up hanging out with a friend from college that lived right below me freshman year and it was like nothing had changed. We're now group texting daily.
Where did you stay?
The first weekend I stayed in a super modern house right up against a mountain at the very southern tip of Palm Springs and the second weekend, a much less spaceship-like place in the center of town. It's a long drive to Indio every day but so worth it!
How did you manage to stay looking good in the desert heat?
Guzzling coconut water to stay hydrated and liters of Kate Somerville sunscreen. You can only care so much though in the desert, generally speaking.
What general trends did you notice this year?
Sequin shorts for men, floral crowns, bra as shirt, tie-dye footie pajamas.
For those going to festivals this summer, what do you recommend they bring?
Flexible fabric Band-Aids, bandana as dust shield, the smallest possible cross-body bag, a Boostcase, and Caudalie's Beauty Elixir.
Any celebrity sightings?
A couple of Twilight people.
Who, in your opinion, was the most stylish person there?
Sheila Marquez.
What was the highlight of the festival for you?
Chasing the giant snail!
What other festivals are you looking forward to this year?
Seeing Phosphorescent at Way Out West in Sweden is a delusional dream of mine.