Emily Ratajkowski in the D.I.Y. Project
Oct 17, 2013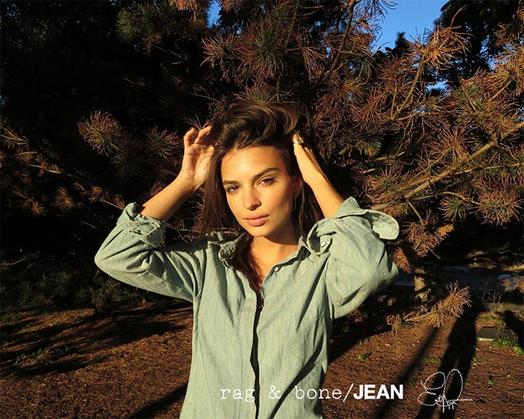 It's an exciting time for our latest D.I.Y. Project participant Emily Ratkowski as the brunette beauty has just moved to New York and she is set to make her movie debut in David Fincher's big screen adaptation of Gillian Flynn's best-selling novel, Gone Girl.
Here, Emily discusses her upcoming venture ... Congratulations on landing your role in Gone Girl. How did it come about?
Thank you, it's an exciting project to be a part of! The audition process happened quickly. I went in to read for casting in New York and the next day they flew me to LA to meet with the director, David (Fincher). I showed up to the call-back audition with David, and Ben Affleck was in the room. A complete surprise. We rehearsed scenes for a couple of hours, and my manager got a call that I booked the role almost immediately after I left. I'm so grateful for this opportunity because I know things like this don't happen all the time.
As Andie, Ben's character's mistress, you will have to shoot love scenes with him. Is that a daunting prospect?
I'm actually not that nervous - I've already done some pretty brave things for work!
Is there a film genre you would love to explore – would you be interested in romantic comedies or does drama appeal more to you?
I really want to try it all - in both the modeling and acting worlds. For me, it's just about feeling passionate about the project and people involved, whether it's a film role, a photoshoot, a music video, or a campaign.
Your name is beautiful but one suspects that people have trouble pronouncing it. Were you ever tempted to change for professional reasons or advised to go by another name?
It's actually easy to pronounce once you know that the 'J' is just silent! I wouldn't change it.
Your schedule is presumably hectic, but what do you like do in your downtime?
Things are pretty busy right now so in my downtime I spend as much time with friends and family. I'm also in the process of decorating.
Finally, what would people be surprised to know about you?
I'm not foreign - a lot of people thought I was after Blurred Lines came out and in meeting me were surprised to find out I was raised in California!
EMILY'S FAVORITES:
Art: Stan Brakhage, Frida Kahlo, Urs Fischer
Album: Joanna Newsom's Have One on Me or Talking Heads' 77
Book: Junot Diaz - This is How You Lose Her, Robert M. Pirsig - Zen and The Art of Motorcycle Maintenance, Gary Shteyngart - Super Sad True Love Story
Destination: Cinque Terre, Italy
Movie: Some Like It Hot, Butch Cassidy and the Sundance Kid, Amelie, Harold and Maude
Cocktail: Moscow Mule from The Bowery Hotel
Dish: Cencioni pasta from Sauce, NYC
Cause: Education
Indulgence: Dark chocolate or an almond croissant